As we count down to the festive season this is an opportunity to reflect on the busy autumn that the Friends have had both with new and on-going activities and events. It is also an opportunity to welcome the positive approach being taken by Libraries Unlimited towards Brixham Library as it introduces its own programme of events and income generation activities. We look forward to working alongside them so that in the coming year we have a fully integrated programme with something to appeal to everyone.
First of the Month Coffee Morning
This continues to be supported by you all with our coffee morning in October being devoted to the Macmillan Cancer Charity as so many have us have been touched or know people who have been affected by cancer at one time or another. In November, we thought about the ending of WWI and supported the British Legion in the good work that they continue to do year on year raising £71.04 with the selling of knitted and felted poppies. Thank you to all those who supported us on these days.
In December we take the opportunity to celebrate the library being in its present building for 25 years and a special cake is being made for the occasion. So why not come along on Friday 7  December between 10.00 and 12.00 noon and join us. Along with coffee and cake, we will have an array of different items for sale and with Christmas just around the corner you may well find the odd gift or two to help lessen your long list of things to do. In addition, children from one of the local schools will be joining us for a short musical interlude.
Finally, our 'coins in the jar' scheme has been adopted by many of you and last month a total of £32.51 was handed in which is very much appreciated. So, if you haven't thought about doing so please and would like a jar for some or all of your spare change do ask for one next time you are at a coffee morning or visiting the library.
Beat the Street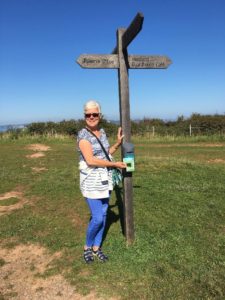 This ended on 31 October and I can reveal that for those friends who joined the FoBL team we may not have been near the top of the leader board but our average no of points per team member was very favourable with other teams. I know that those who took part had a great deal of fun and that is what it was all about, as well as enjoying a good walk, run or bike ride as well.
| | | | | | | |
| --- | --- | --- | --- | --- | --- | --- |
| Team | Final Table Position | Total Score | Total Miles | No. of Team Members | Average Point Score Position | Average Points per Team Member |
| Winner | 1st | 167490 | 7053.5 | 540 | | 310 |
| FoBL | 38th | 7580 | 362.5 | 22 | 10th | 344 |
Loyalty Card Scheme
Our retail partners are all gearing up for the Christmas period and a busy time for them all. Please do take advantage of the many offers they are making available though our joint loyalty card scheme with them helping you to save some pennies and them to continue to trade successfully in the town. I am often asked what benefit the scheme brings to FoBL. Our inspiration comes from the fact that the more people are lured into Brixham to shop then hopefully they will take the opportunity to use the library as well. Thus, everyone is a winner and the offers made to FoBL members are purely a bonus and hopefully something that you all value too.
FoBL – Torbay Libraries Concessions
Just a reminder that your FoBL membership card entitles you to free hire of DVD's and reservations. There has been a recent influx of new stock covering a complete range of popular titles including:
On Chesil Beach
The Mercy
Goodbye Christopher Robin
Three Billboards Outside Ebbing, Missouri and many more.
So, with the winter months on our doorstep, evenings drawing in, why not make the most of your membership entitlements and settle down with a free DVD. Alternatively, if children and grandchildren need settling down quietly for a spell there are many DVD's catering for the wide tastes of children and young people too.
Recent Events
Cosgrave & Banks
On Friday night, Brixham Library by popular request saw the return of local folk duo Mike Cosgrave & Steve Banks. Since their previous visit in 2016, the two lads have continued to develop and refine their wonderful repertoire of music and song, drawing from far and wide across the UK and Europe. They have been described as 'one of Devon's multi-instrumental treasures' and a very apt description as they played through their melodic and captivating musical journey with a totally captivating and magical evening. Organised by The Friends of Brixham Library this was a very successful fund-raising evening raising over £200.
Library Update
Request for empty cereal boxes and plastic lemonade bottles: this has come from Emma who would like to stock pile them for future children's craft activities. Please take them into the library and give to the staff at the desk.
Brixham Library are trialling the taking of bookings for tickets for the Palace Theatre, Paignton. This will avoid any booking charges being made and with the addition of a meal deal in the nearby Peaky Blinders Restaurant with the downloading of a voucher will enable a 10% voucher to be available. Please ask for more information about this in the library.
It was recently drawn to my attention that our library was beginning to look like the 'Lost Gardens of Babylon'. I am pleased to say that shortly after bringing this to the attention of Torbay Council they have now been cleared and as a result look a lot better for it.
Since the last newsletter the Government has responded to the recent petition as follows:
The Government is committed to supporting a sustainable long-term future for libraries. Councils retain flexibility over funding decisions, so libraries can be resilient and equipped to meet local need
The Government takes seriously the statutory duty to superintend and promote the improvement of library services in England – to ensure that councils in England meet their own statutory duty to provide a comprehensive and efficient library service.
The Government is committed to supporting a sustainable long-term future for public libraries in England. We want libraries to be resilient and equipped to meet local challenges – to thrive, not just survive. We are continually advocating for their value and contribution to strategic objectives across central government.
The Department for Digital, Culture, Media & Sport (DCMS) and the Local Government Association (LGA) established the Libraries Taskforce in 2015DCMS provides funding of £500,000 a year (from April 2016 to March 2020) to enable the delivery of its work. The Taskforce is helping to invigorate the public libraries sector by advocating for public libraries with central and local government, encouraging good practice and innovation, and by providing toolkits and free masterclasses for library services.
Over the five-year period from 2015-16 to 2019-20 councils will have access to more than £200 billion. The Chancellor's announcement at budget means a real-terms increase in funding for local government in 2018/19 and 2019/20.
The Government's position is that local government funding should be non-ringfenced. This has been a long-established Government principle based on the premise that giving greater funding flexibility to local authorities supports them to make spending decisions based on their local needs and priorities. Removing ringfencing also supports good, efficient financial management at a local level and promotes the government's agenda of localism.
Local Government funding is provided through the Local Government Finance Settlement with a certain sum of money based on the assessment of local needs. The decision about how to allocate this falls to the local authorities as the locally democratic and accountable body. Ultimately, decisions about resource prioritisation for libraries sit with local authorities.
Ministry of Housing, Communities and Local Government
Click this link to view the response online:
https://petition.parliament.uk/petitions/228742?reveal_response=yes
The Petitions Committee will take a look at this petition and its response. They can press the government for action and gather evidence. If this petition reaches 100,000 signatures, the Committee will consider it for a debate.
The Committee is made up of 11 MPs, from political parties in government and in opposition. It is entirely independent of the Government. Find out more about the Committee: https://petition.parliament.uk/help#petitions-committee
Thanks,
The Petitions team
UK Government and Parliament
Let's Celebrate Our Libraries
The following extract is taken from the October edition of the 'Mature Times' (Issue No. 314 page 3) and although written with National Libraries week in mind still worthy of bringing to your notice.