The Friends of Brixham Library offer practical support for all services provided from Brixham Library. All our fundraising efforts go into improving facilities in the Library and encouraging more people to walk through the door. We are particularly keen to support activities for children as they are the readers of the future.
But the library is more than just books  – in more usual times the Friends of Brixham Library have a full events programme running throughout the year. We aim to offer something for everyone whether young or old. From activities for children; to details about the regular library reading group as well as finding out about the local birdlife with local bird spotter Mike Langman. Our events programme will be back in action once government guidelines allow. Meanwhile the Library is open again.
You can follow this site by clicking on the Subscribe button at the bottom of this page and supplying your email address (which is kept private).  You will then be notified as soon as there is a new post on this site – meaning you'll hear all the latest events/news first.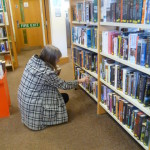 For full details of our events see the sidebar.
To join the Friends of Brixham Library  click here
To book events, contact the Library on 01803 853870
To see our Constitution, please click here
 Mayor says FOBL work is "an inspiration to others"  
 "I heartily congratulate you and the Friends for the excellent work you are doing. You are an inspiration to others." –  Gordon Oliver,  Elected Mayor and Leader of Torbay Council