This month has been a busy one of FoBL with three events taking place. The first was a walk with Mike Langman on Ideford Common to see nightjars and glow worms. As always with Mikes walks, those who went enjoyed his incredible capacity for hearing the many different birds to be found in such special localities and a good time was had by all, despite the absence of the glow worms. If you have never tried one of these walks before they are to be recommended and you will be made most welcome.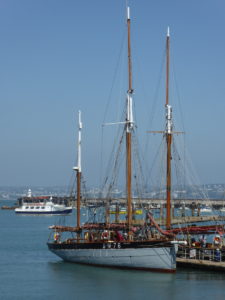 Our annual trip on the Brixham Trawler 'The Vigilance' was once again enjoyed by those who went. We become so used to seeing the several heritage vessels moored down on the heritage pontoon that it is so easy to forget how lucky we are to have more than one survivor to remind us of our fishing heritage.
Our AGM was held on 17 July, with over 30 members being in attendance. Minutes of this meeting along with reports from the Chairman and Treasurer are available on request from our new Secretary Eunice Dodd who has stepped down as our Treasurer. After a very successful meeting, the evening continued with a talk on his adventure to Mull by local Historian John Risdon. Accompanied by some wonderful photos from his visit we were all transported to that far off place and the very different world that he visited, described so vividly by John. Our thanks once again for his continued support for FoBL and all that he does for us.
While FoBL takes a break from its activities and events over the August recess, things are still happening which may be of interest.
Once again, all libraries Torbay & Devon are participating in this year's summer reading challenge. Along with several FREE special library events in Brixham Library, this is an opportunity for your children and grandchildren to really get involved. Children can read whatever 6 books they like – just as long as they have been borrowed from the library and receive special regards each time they finish a book. On completion of the challenge they will receive a certificate which will be presented in school by library staff. Once again FoBL has donated prizes and the winning names will be drawn in September.
Can you identify who these unruly people are with Mr Cosmo at the recent launch of 'Mischief Makers'?
Our next First Friday of the month coffee morning takes place on Friday 3 August between 10.00am and 12.00 noon. These are proving to be very successful and a great way to meet up with friends; enjoy coffee and cake and visit the library too. All are welcome so do drop by and put this date in your diary.
Finally, with the success of our health walks on a Monday morning and a Tuesday afternoon we hope to start some Dementia Friendly Walks once a fortnight on a Friday morning, starting at 10.30am on Friday 3 August for a stroll around the harbour and finishing at the Brixham Steam Packet' 'Chart Room Café' should anyone like to takerefreshment there. It is hope that anyone is suffering with early stages of dementia will enjoy coming along with their carers to enjoy a walk on the flat with stopping points along the way if required.
For further information about children's activities during August, FoBL events coming up in the autumn or details about the coffee morning please ask in the library or phone 01803 853870. For further information about the dementia walks please see the information below.
Alasdair Anderson
Chairman, The Friends of Brixham Library
23 July 2018