Forward
Welcome to the March edition of Friends Matter and with Spring almost upon us we can start to put the dark days of winter behind us and enjoy seeing the first peeps of snowdrops, daffodils and other spring flowers in our gardens and parks as well as on our regular exercise walks. For many of our readers, faced with another daily commute from bedroom to kitchen table ("sorry I'm late CJ – unexpected congestion in the hall area") while juggling the demands of home schooling, such thoughts must seem a world away.
I was reminded during the last few weeks how lucky I am to live at home with my wife as company and that for so many the pandemic has made loneliness a growing problem in our time. Of course, one doesn't have to be self-isolating to feel lonely and it has often been said that one can feel lonely in a crowded room, or, in family situation with the family all around you. The pandemic has made many of us realise that we have the luxury of being able to communicate in so many ways. I say this because my grandparents' communication in their younger days was restricted to letter, telegram and, for the well off, the telephone. When my grandmother's elder sister emigrated to Vancouver in her early twenties, all communication until latter years was via post and only in their twilight years could they marvel at speaking across the great divide by telephone and even then, only for a very short time.
Today, the power of mobile phones, laptops and tablets using Texting, Zoom, Facetime, What's App and all social media applications mean that it is so easy to catch up with friends and family. Thus, when an acquaintance fell at home breaking any number of bones, I decided to fall back on a traditional route, communicating with her by sending her a card. Technology is wonderful but the written word still retains the power of someone receiving something and being able to read a card or letter as many times as they wish. I am pleased to say my friend was thrilled to receive my card as she was recuperating in hospital feeling very alone. So, my message today is, there is always someone out there to talk to, and in the absence of meeting and visiting, now has to be a good time to get in touch and break the solitude of all those lonely hours that so many of us know only too well. Our library staff are doing just this, making contact with people they are aware of alone at home. We can all do our bit, for as the well-known BT advert used to say, 'It's good to talk'.
With this in mind, later in this newsletter there are details of two library initiatives that may be of interest in the form of the 'Good Neighbour Scheme' and the new 'Reading Friends Group', a lifeline for isolated new parents and carers in Devon & Torbay.
Membership update from Angie Robson, FoBL Membership Secretary
After a very unusual year we hope to get FOBL membership back on track. Thank you everyone who continues to pay their subscription by standing order and to the people who have paid in cash for 2020/21.
Membership payments of £5.00 are due on 1st April and it has been decided not to increase this. Money raised through annual subscriptions is an important part of our regular annual raising activities helping us to support Brixham Library.
Please do consider a standing order payment, it makes the process very painless!
If you did not renew your membership last year, due to data protection rules we are unable to retain your information for another year and you will need to complete a new application form. This is available on the website or from the library.
We are disappointed that the committee were unable to offer any special events last year, however the membership is still great value, it supports library projects and entitles you to 5 offers of any combination from the following:
Free DVD hire
Free CD hire
Free reservations on any item from Torbay libraries
Your membership card can also be used as a loyalty card in a number of retail outlets in Brixham (details of participants on the FoBL website). Please note that any offers or benefits made by the retailer are offered on their own volition and are not prescribed by FoBL and hopefully are considered as privileges.
Cards for members who pay by standing order will be available in the library as soon as opening is allowed and for other members as soon as payment is received.
Membership cards this year are blue!
We very much hope we can all meet soon.
Loyalty Card News
Sadly, 'Taste' in Middle Street will be closing down at the end of February BUT the good news is Denise will be carrying on with her business 'Taste' from home. She will be selling her wonderful Belgian Chocolates, Italian and French Nougat, Turkish Delight and lots of other sweet treats. Keep an eye on Facebook and on Instagram for updates. Free local delivery or post to someone who deserves a treat. A website is being planned so you can order online. Taste will still be part of the loyalty card scheme.
Ides of March
The phrase 'The ides of March' is very familiar but what does it mean?
The Ides of March is the 74th day in the Romancalendar, corresponding to 15 March. It was marked by several religious observances and was notable for the Romans as a deadline for settling debts. In 44 BC, it became notorious as the date of the assassination of Julius Caesar which made the Ides of March a turning point in Roman history.
The Romans did not number each day of a month from the first to the last day. Instead, they counted back from three fixed points of the month: the Nones (the 5th or 7th, nine days inclusive before the Ides), the Ides(the 13th for most months, but the 15th in March, May, July, and October), and the Kalends (1st of the following month). Originally the Ides were supposed to be determined by the full moon, reflecting the lunar origin of the Roman calendar. In the earliest calendar, the Ides of March would have been the first full moon of the new year.
Courtesy of  Wikipedia
Libraries Unlimited – News Update
Emma Writes:
I hope you are all keeping well and hopefully starting to have your first vaccine ?. We miss seeing you all in the library.
As the library is still closed, we are continuing to offer Choose and Collect, please telephone/email on the morning you would like to collect your books. 
We will be launching an adult reading challenge entitled – Bay Book Bimble- The Adult Reading Challenge. We are hoping to launch this in March. Each month there will be a topic or theme that you will need to read about. This challenge is to run right through to December. Everyone that has completed all of the challenges will be entered into the draw to win a prize! I will have more information on how you can take part very soon.

Kind regards
Emma
Emma has asked me to include the image below, some examples of new stock that has recently arrived in Torbay and there will be lots of other titles too.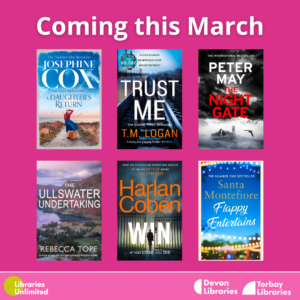 Craft packs – over half-term the library have been making up Superhero craft packs helping to raise funds for the library. FoBL has just helped by paying for craft materials for future packs for forthcoming half terms and for the summer holidays to include the summer reading challenge. Being ever watchful, Emma has been able to make use of a clearance sale offer thus gaining some real bargains.
Join Brixham Library's 'Good Neighbour Scheme'
Do you know someone who loves books but can't get to the library?
Did you know you can sign up as a Good Neighbour and collect books for them?
Our Good Neighbour membership is for family, friends or neighbours wishing to choose and deliver books to people not able to get to the library.
Contact Brixham Library to find out how to become a Good Neighbour and utilise our Choose and Collect service during lockdown on behalf of someone else.
New in 2021-  Reading Friends Group
A lifeline for isolated new parents and carers in Devon & Torbay
We're providing extra support for new parents and carers, who may be struggling with isolation and mental health problems during the pandemic, with our Reading Friends initiative.
Reading Friends is being launched under the Reading Agency's 'Read Talk Share' 2021 campaign and aims to promote the use of books and reading to help mental health.
The scheme will run across all 54 libraries in Devon and Torbay. Reading Friends participants will get to chat with a member of staff on a one-to-one telephone call, providing a safe and trusted place where they can share how they're doing and ask for support. There's no pressure to read a book before the telephone session and the member of staff will support the discussion, which could include chatting about magazine articles, news items or a book.
Once libraries reopen and social distancing is relaxed, Reading Friends groups will meet in person, with toys and books for the children.  If you're interested in joining the Reading Friends group, or would like to find out more, please email readingfriendsgroup@librariesunlimited.org.uk.
Dogs tied here will be stolen!'
It has been brought to our attention that many dog owners, particularly, elderly people have no idea how dangerous it is now to tie dogs outside shops or the library. One of our members stood with two elderly dogs outside Rea Barn Co-Op until the elderly owner came out and told her about how dog theft has gone up 270% in the past year and suggested she leave them at home next time she goes to the shops. She was very thankful as she had no idea of the risk
Your Comments:
Feedback is always welcome and none so much following the February edition of Friends Matter as follows:
'Thanks very much for sending this, was really good to read. ?' sent in by E
 'Thanks for sharing! I enjoyed your new footer (I'm an administrator after all) and all the images'. Sent in by another E.
'Just to say thank you for the FoBL newsletter, it was so cheerful and full of news, just what we need at the moment.' Sent in by W.
 Facebook Update 
If you've not been receiving a lot of your posts recently it's worth doing the following:-
Facebook has changed Notifications for ALL groups again.
They have automatically switched members of most groups to receive "Highlights" instead of "All Posts".
This means that you will only see about one in ten posts on the groups you're in! (Even if you've updated this in the past)
To change these settings, go to the group page (you have to do this for every group you're in):
click the 3 dots on the top right of the GROUP HOME page
Click Notifications
Change from "Highlights" to "All Posts".
Pass on the word to your other groups.
And Finally….