The last month has undoubtedly been one of mixed fortunes. Sadly, dominating the news – both national and in the library – has been the imposition of a second national lockdown. Once again, our planned events had been put into limbo. This has primarily affected the opening of our Christmas Market Stall which is now operating a choose and collect service until library opening resumes. These alternative arrangements hopefully will mean that you will be able to purchase gifts and goodies for Christmas. While this news is an undoubted blow, the safety of our staff, volunteers and library users remains the library's highest priority.
When we have details of the Library reopening times we shall publish them here.
Bay Walks
As we have all heard we, like the rest of Devon, will be in Tier 2. The new guidance from Walking for Health inform us that group was in tiers ! and 2 can restart. However, after consulting the walk leaders we shall NOT be restarting the Monday Walk due to the number of Cvid cases in and around Brixham, We shall keep this under review, but the general feeling s to stay as we are until we have had the vaccine.
Keep walking, stay safe, and look forward to the time when we can all walk together again without risk.
Christmas Market Stall
The current Covid 19 pandemic poses many problems for us all and thus in this period of lockdown, we are looking at doing things differently. We were hoping to launch our Christmas Market Stall on Monday but with the library being closed to visitors into the building this is not possible at present.
However, over the last few weeks and months, friends have been busy making items to sell on the stall. We would like to invite you to take a look at our stall to see whether there is anything to help with your Christmas gift purchases this year. All items are being sold at very reasonable prices from model cars; knitted woollen bears; Christmas candles; keys racks to Christmas cards and decorations. Other goodies are also available. Newly made occasional tables and a magazine rack are also for sale. In addition, Christmas cakes (un-iced) can be ordered. These are made from a traditional family recipe which is tried and tested and is as good as it sounds. Once you have made a list of chosen items you will need to telephone the library to make an appointment to collect your chosen items – 01803 853870. To help things run smoothly payments must be made in cash and if you have the right money that's even better.
All proceeds are being divided equally between Brixham Library and The Friends of Brixham Library. Please do let your friends, neighbours and family know about our Christmas Market Stall.
Finally, we are hoping that with the end of lockdown the library will reopen for use so that you can come in to see the market stall for yourself. In the meantime, please don't wait as we know that some of the items will sell very quickly so order now to avoid disappointment.
PS – our winter raffle is still running, and tickets are available at £1.00 each from Brixham Library so do make an appointment to buy tickets. The raffle ends on Friday 11 December when the draw will take place.
Christmas Market Stall Gifts for Sale include:
Christmas Cards & Kits – £1.00
Handmade Fabric Doorstops – £4.00
Snow Wooden Decorations
Knitted Animals – £10.00 each
Mexican Spiced Onions in Cider Vinegar – £2.00 a jar
Christmas Angels £1.00 & £2.00 each
Handmade Baby Blankets – £5.00 each
Knitted Chain Garlands – £2.00
Knitted Teddies – £1.00 each
Model Wooden Buildings – £5.00 each
Vintage Mounted Model Vehicles – £5.00 each
Large Occasional Table – £25.00
Small Occasional Table – £15.00 each or two for £25.00
Handmade Key Holders – £5.00 each
Handbags – £4.00 each
Locally Made Magazine Rack – £10.00
Handmade Angel Decorations – £2.00 each
Christmas Candles – £3.00 each
Large Homemade Blanket – £15.00
Handmade Knitted Christmas Stockings – £1.00 each
Handmade Angel Decorations – £2.00 each
Handmade Tree Handing Sweetie Bags £1.00 each
Bunches of Lavender – 50p a Bunch
Handmade Bookmarks – £3.00 each
Handmade Mice – £2.00 each Bag
It's a great way to kickstart your Christmas shopping!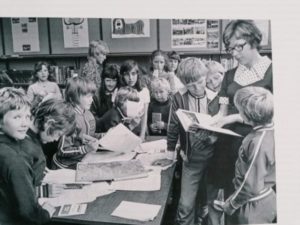 If you hadn't guessed from last month who the young librarian in the photo is, I can now reveal it is Sue Anderson nee Evans. The photograph was taken in Southway Library, Plymouth.
And Finally….
As we await to hear what further restrictions we will be experiencing when we move into Tier 2 on Wednesday 2 December, we are all hoping that our libraries will be able to reopen. However, in the meantime the choose and collect service is available to all. No fines are currently being charged during the closure period and staff are trying to work near normal hours to keep the service going even under their restricted circumstances. Any queries of concerns can be raised by tel; 01803 853870 and all the staff will be pleased to help you.
Alasdair Anderson
Chairman, The Friends of Brixham Library
23 November 2020